Chicago Four Square House
The "Four Square", "Box" or "Rectilinear" house is a type in roughly cube-like proportions with a pyramidal hipped roof. The house can be built of wood or brick. The style may include some classical detail or Craftsman or Praire-style materials, but does not generally feature much exterior ornamentation. Most have a large front porch and front dormer window on the attic third floor.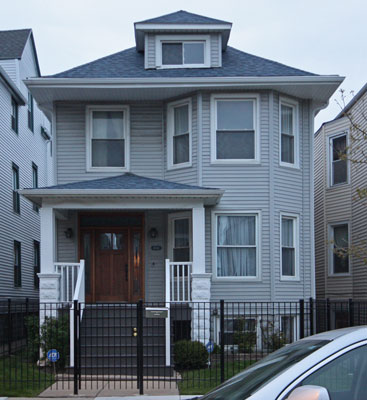 The earliest Four Square houses in the mid-1890s were likely a reaction to the excess ornamentation and assymetry of the Queen Anne style. The first examples were built by architects for upper-class patrons, but the simplicity and efficiency of the box shape soon made the Four Square popular with middle-class homeowners looking for an unpretentious and affordable dwelling with a large interior to fit on a limited city lot. The houses are are too wide to fit on narrow Chicago single lots, but are often built on 37-foot or 50-foot double lots.
Around the country, many Four Square houses were ordered from mail-order companies as complete house kits, but few of these were built in Chicago, perhaps because the simple houses could be built cheaper by experienced house contractors using materials readily available in the city.
Four Square houses were usually built with four rooms on each floor. The location of a staircase along one wall can usually be spotted from outside by a window on the landing midway between floors. Advertisements for mail-order Four Square kit houses show a typical layout: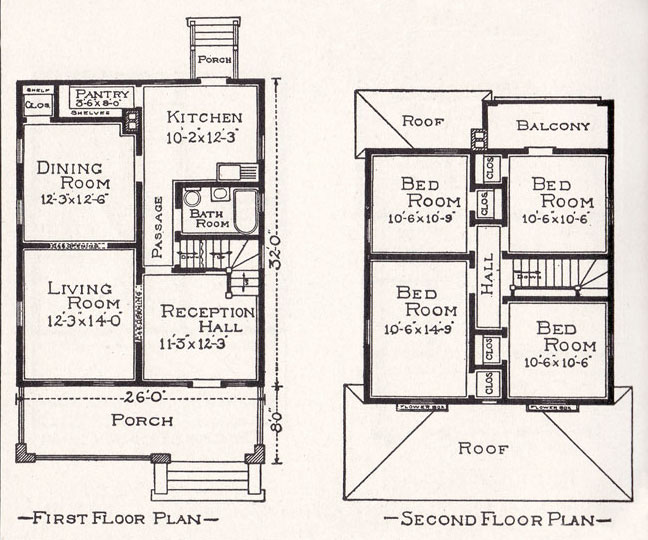 The Four Square style lost popularity in the 1920s as middle-class fashion turned to more decorative house styles.