Chicago Workers Cottage
The "Worker's Cottage" is a simple gable-roofed house style which was popular in the nineteenth century as working-class housing. This style of house is most commonly built of wood, less often in brick. The buildings are long and narrow to fit small city lots which are typically 25-feet wide in Chicago. Some houses may have originally been ornamented with decorative wooden details which have not survived to the present day.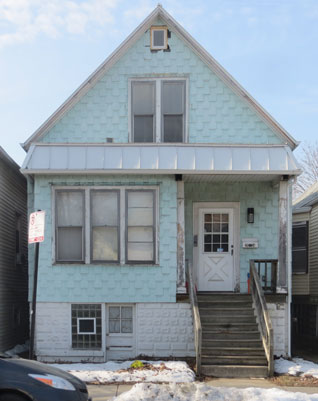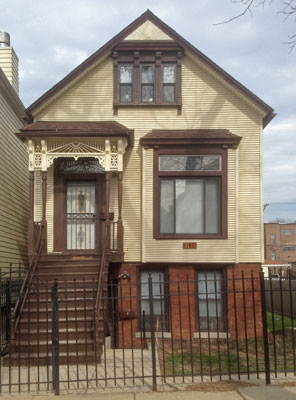 After the Great Fire in 1871 and a similar conflagration in 1874, Chicago banned construction of new wooden buildings within the city limits, despite the protests of working-class residents worried about the increased costs of home-ownership. As the city rebuilt and its growing industries attracted new residents, many families built small wooden workers cottages outside the city limits to avoid the restrictions. These areas were later annexed to the city and received city water and sewer services. During the building boom in the 1880s-early 1890s, developers such as Samuel E. Gross built thousands of workers cottages in and near Chicago. Builders often offered simple financing which made these houses affordable to working class families.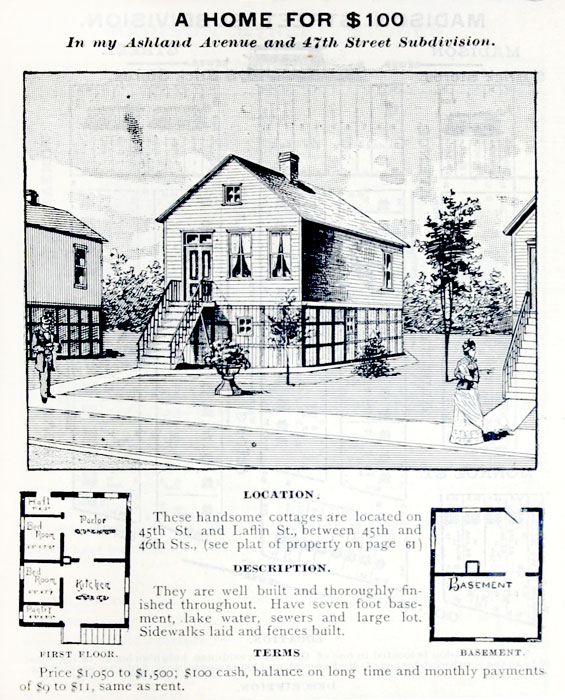 Chicago's explosive growth in the nineteenth century was fueled by its location as a central marketplace of natural resources from a wide territory. From northern Wisconsin and Michigan, dense old-growth pine forests supplied the lumberyards stretching southwest of downtown Chicago along the South Branch of the Chicago River. The world's busiest lumber market shipped materials by rail to build the new towns of the Midwest and West, but also the growing sprawl of workers housing around Chicago itself. The "balloon frame" technique of house building, which used long, straight upright beams to quickly frame the walls of the house, was more economical than older methods and made possible by standardized sizing of boards from the centralized lumberyards.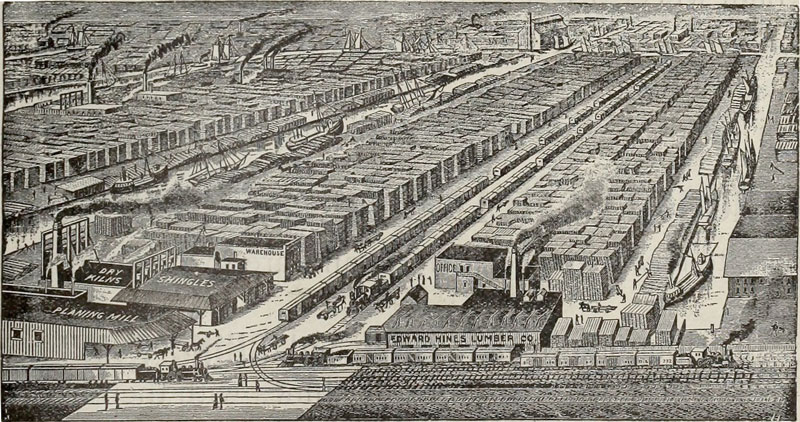 In the late 19th century, many wealthier Americans lived in rental apartments and hotels. To the working class, however, home-ownership meant a hard-won bit of stability at a time when working class jobs provided little stability. In tough times the family could rent extra rooms or take in boarders to help pay off the mortgage. In successful times, they could add room for a growing family with an addition in back, or even raise the entire house to build another rental apartment floor underneath. Some frame two-flat and three-flat buildings started out as smaller 1-story workers cottages. Workers cottages were often altered extensively over the years. These modifications tell the unwritten history of all the families who have called these places home.