Chicago Greystone
The Greystone is named after the distinctive grey-colored Bedford limestone which faces these buildings. The durable stone, which is quarried in Indiana near Bloomington, can be worked into any shape or ornamental detail and over time hardens into a long-lasting building material. There are estimated to be nearly 30,000 greystone houses in Chicago in a variety of sizes and styles. Many grand Greystone mansions were built from the 1890s - 1910s along the boulevards, and simpler Greystone two- and three-flats line smaller streets throughout the city.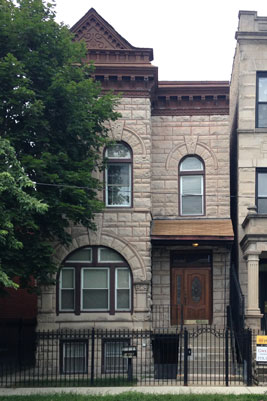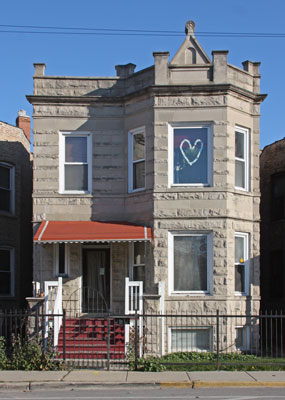 Early Greystone mansions built along Chicago's boulevards took their inspiration from the Richardsonian Romanesque style, with its round arched doorways and rugged blocks carved to look like heavy natural stone. Many of these miniature castles with fairytale towers and ornate carved details were built for newly-wealthy entrepreneurs as the city's trade and influence grew at the end of the 19th century.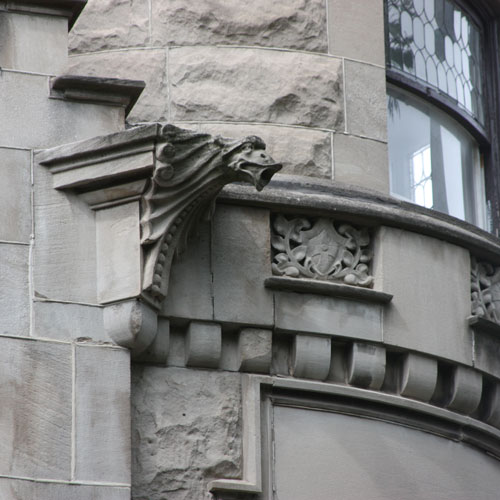 Later on, a less-elaborate Neo-classical style became popular to decorate rows of Greystone two- and three-flats for middle class families. The front of the building is not solid stone, but a 4-inch thick veneer covering a front wall made of several layers of Chicago common brick, which can be seen be seen on the exterior of the side and rear walls of the building.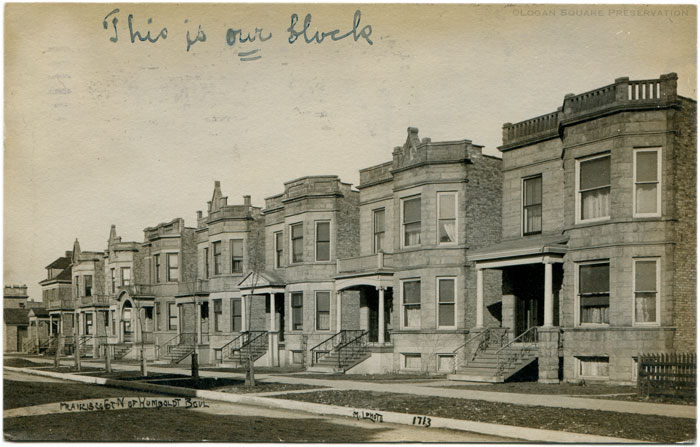 Other than the stone facing, the rear and interior of these houses is similar to a brick two-flat. Most often, the front door opens to a small shared hall or vestibule with doors to first and upper-floor apartments. In the original layout, the front of each apartment is usually a large living room, or "parlor" as in the 1909 floor plan below. Several bedrooms and small bathroom are in the center of the building. The kitchen is usually at the rear, with a door to the back porch.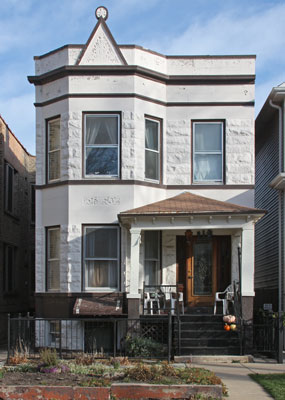 By the mid-1910s the popularity of the Greystone waned. Newer Arts and Crafts and Prairie architectural styles featured open floor plans with interiors and exteriors that celebrated earthy ceramic, wood and brick materials rather than the cool formality of finely-carved stone. The stately Neoclassical facades with their carved flourishes looked pretentious and fussy in comparison to the abstract geometric designs of the modern bungalow and brick two-flat.
In the past few decades, many Greystone two- and three-flats have been carefully restored and now sell for over a million dollars. In other parts of the city, thousands of historic buildings have been lost to neglect and disinvestment, but with care the hundred-year-old brick and stone buildings can stand for many decades. As long as the masonry has not deteriorated, the buildings are usually worth more as rehabs than teardowns, so they are better preserved and valued than other building types. The Historic Chicago Greystone Initiative was established in 2006 to draw attention to Greystones and to assist homeowners in maintaining them.